Untold Stories: Forty Years of Field Research on Root Diseases of Wheat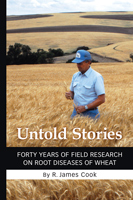 APS announces new book by Dr.  R. James Cook
"Untold Stories: Forty Years of Field Research on Root Diseases of Wheat"
Compelling stories full of practical knowledge
Support decision-making on the farm and in the lab
Learn about a unique approach to research
R. James Cook is well known and highly respected worldwide by colleagues in plant pathology and by the many wheat farmers he's served in the U.S. Pacific Northwest. He is known for his dedicated work on root diseases of wheat, his breakthrough research and scientific leadership on the ecological and biological control of soilborne plant pathogens, and his philosophy to conduct his research in the field.
Dr. Cook's celebrated new book, Untold Stories: Forty Years of Field Research on Root Diseases of Wheat is a comprehensive account of his four decades of field research—and his personal and professional growth while developing his knowledge, expertise, and unique approach to research.
This book is much more than an autobiographical collection of first-person stories. It imparts unique experiences and knowledge for budding and veteran scientists alike; plus, it serves up 'bushels' of knowledge that growers and crop consultants can utilize to make more informed and successful decisions in the field.